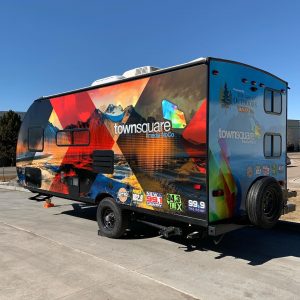 Since 2011, Loveland's RoadRace Factory has made a distinctive impression in the world of superbike racing. The teams have competed at AMA Daytona Sportbike, Supersport, MotoAmerica Superbike and more, while the school exists as a program to support talented drivers and help them advance their careers. One of the ways they make an impression? The immaculate vinyl wrapping on each and every bike.
If you're a fleet manager or you're in charge of a motorsports team, you have one opportunity to make a good impression. Your clients or competition will be eyeballing you the second you arrive. To project confidence and competence, do what RoadRace Factory did and partner with the professionals at Evolve Graphic Solutions to show up with stunning vinyl wrapped vehicles. There's no better way to create a lasting brand image for your team or business than stealing the show with the best vinyl wrap look on the track or road.
Our team has more than five years of experience in immaculate vinyl vehicle wraps. It begins with a free same day estimate to determine your needs, and we're always happy to come to you for a free on-site survey. Evolve Graphic Solutions is a 3M Preferred graphics installer, putting us in pole position when it comes to quality, ability, and standards. We only use 3M knifeless tape to ensure the end result of your fleet vehicle wrap is flawless. Need us to work with your insurance provider? No problem. At the end of the day, our only concern is a finished, professionally vinyl wrapped product that's perfect — and nothing else will do. For a free consultation, contact us by phone or online today.
---
Schedule a Free Consultation Today